Reliable Rental Vehicles at Affordable Prices with DARCARS Honda in Bowie

Need a rental car? Then DARCARS Honda is here to help. We have low rates on convenient car rentals, and our rental agent will help match you with a vehicle to fit your needs, long or short term.  Daily rates start at $34.99 on a variety of Honda models, so call us today to reserve yours now.
Whether you're just visiting or need some temporary transportation around the area, we here at  DARCARS Honda are ready to meet your needs with a smile! We offer low rates on car rentals for drivers of all kinds with our skilled rental agents ready to match you up with a vehicle that meets your requirements as you hit the road, whether you need a car for the day or something to keep you rolling for an extended period. With daily rates starting as low as just $34.99 on a wide variety of stylish and feature-filled Honda models, we welcome you to call us today and reserve the one that's right for you, quickly and easily.
Our selection of rental vehicles offers everything from sedans to vans, subcompacts to SUVs, set to meet your individual needs. Our models are all equipped with the latest safety technologies and have earned high marks from both the Insurance Institute for Highway Safety and the National Highway Traffic Safety Administration; if you have any questions about a particular model, we'll give you the official ratings to inspire confidence in your decision.
To begin, you'll need to bring a valid credit card and a valid driver's license, as well as being prepared to make a deposit on your chosen vehicle. From there, our skilled staff members will walk you through the rest of the requirements to get behind the wheel. We hope to see you soon!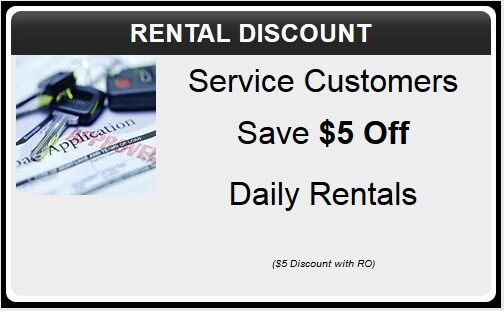 Call Our Reservations Office
Rental Agent: Kristopher Row
(301) 218-2342

Rental Department Hours

M-F: 7:30AM - 5:00PM
Sat: By Appointment
Sun. & Holidays: CLOSED

Hours
Monday

9:00AM - 9:00PM

Tuesday

9:00AM - 9:00PM

Wednesday

9:00AM - 9:00PM

Thursday

9:00AM - 9:00PM

Friday

9:00AM - 9:00PM

Saturday

9:00AM - 8:00PM

Sunday

12:00PM - 6:00PM
See All Department Hours
Dealership Hours
Monday

9:00AM - 9:00PM

Tuesday

9:00AM - 9:00PM

Wednesday

9:00AM - 9:00PM

Thursday

9:00AM - 9:00PM

Friday

9:00AM - 9:00PM

Saturday

9:00AM - 8:00PM

Sunday

12:00PM - 6:00PM
Parts Dept. Hours
Monday

7:00am - 7:00pm

Tuesday

7:00am - 7:00pm

Wednesday

7:00am - 7:00pm

Thursday

7:00am - 7:00pm

Friday

7:00am - 7:00pm

Saturday

7:00am - 4:00pm

Sunday

Closed
Service Dept. Hours
Monday

7:00AM - 7:00PM

Tuesday

7:00AM - 7:00PM

Wednesday

7:00AM - 7:00PM

Thursday

7:00AM - 7:00PM

Friday

7:00AM - 7:00PM

Saturday

7:00AM - 4:00PM

Sunday

Closed